Kyowa Hakko Bio Co., Ltd.
Kyowa Hakko Bio Co., Ltd. was established as Kyowa Hakko Kogyo in 1949 and merged with the Kirin Group in 2008. Kyowa Hakko Bio manufactures pharmaceutical raw materials and healthcare ingredients represented by functional amino and nucleic acids and provides them to customers. These ingredients have a wide range of uses, spanning from health foods to active pharmaceutical raw materials, intermediates, cell culture medium, makeup, and more. Kyowa Hakko Bio aims to contribute to the health and wealth of the people of the world by developing functional ingredients that meet market needs and providing them to each industry.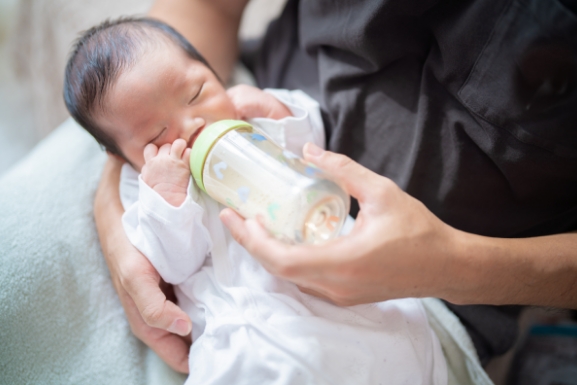 June 5, 2023
As a mid- to long-term strategy, Kyowa Hakko Bio is working to enhance the sales of specialty ingredients to realize profitability improvement. By keeping various options in mind, we will decisively and quickly implement structural reforms while downsizing the amino acid business. Additionally, we will focus our resources on two specialty ingredients: Citicoline*1 and Human Milk Oligosaccharides*2 (HMO).
A naturally occurring substance in the body that helps maintain cell membranes in brain and nerve cells. It is used around the world to treat brain diseases and in health foods that support cognitive function.
A generic name for oligosaccharides found in human breast milk. There are over 200 varieties in human breast milk, and studies have shown they contribute to immunity, brain function, and more.
2022 Year in Review
In 2022, revenue and sales took a big hit from the spread of COVID-19 and the soaring prices of raw materials and other materials. Due to this, it has become necessary to accelerate changing the structure of the low profit amino acid business, which Kyowa Hakko Bio had planned to downsize, so a management decision was made to significantly detract assets.
On the other hand, the promotion of the specialty ingredients that are responsible for the future growth of our business, Citicoline and HMOs, is going as planned. Regarding Citicoline, manufacturing plants have been expanded and the sales team in the large North American market has been reorganized. As for HMOs, a new manufacturing plant has been built in Thailand and preparations to get them on the market are steadily progressing.
2023 Initiatives
Improve sales of Citicoline and HMOs and downsize the commodified amino acid business earlier than originally planned.
The global citicoline market is expected to grow to 15 billion yen in 2023. New facilities are to be built at the Yamaguchi Production Center (Hofu City), and test operations will begin in 2023 in preparation for the commercial production of health foods. Furthermore, focus will be put on the US, where the sales structure has been reorganized to specialize in the market; branding of Cognizin, a Citicoline product brand, will be enhanced; and the sales strategy will be improved.
The growth of the market from 2022–2027 for baby formula with HMOs is expected to grow an average of about 20–30%*3 per year. Sales activities and regulatory compliance are being promoted in preparation for the launch of our products around the world while we strengthen research on the products' functionality. We aim to start selling in Southeast Asia by the end of this fiscal year. Through Thai Kyowa Biotechnologies' steady supply of safe, high-quality HMOs, they will contribute to the healthy development and growth of infants around the world.
We will promote the development pipeline responsible for not only the above specialty ingredients but also future candidates by strengthening collaborations with the Institute of Health Sciences built in April 2023.
Barclays, "HMOs the next frontier of Infant Formula innovation," March 2022
Construction of the HMOs production facility completed
In the year 2000, Kyowa Hakko Bio established the world's first*4 HMOs production technology capable of mass production of HMOs at an industrial level.
HMOs are particular oligosaccharides*5 found in human breast milk. HMOs are the third most common solid component in human breast milk, after lactose and lipids, and over 200 varieties of HMOs have been discovered. Because it is rarely found in milk derived from other mammals, such as cow's milk, but is particularly abundant in human colostrum, it is known to be important to infants. The European and North American markets for baby formula with HMOs are continuously growing, and the expansion of its consumption in China and South Asia is also expected to grow due to predicted population growth. The estimated average annual growth rate of consumption is around 20–30%.
After considering the expansion into Asia, where consumption is expected to expand, and the advantages of securing excellent human capital and the raw materials necessary for producing HMOs, we have integrated the knowledge and technology of the Kirin Group's Engineering Department and built an HMOs production facility at Thai Kyowa Biotechnologies. HMOs production began in 2022, and we aim to start selling HMOs to baby formula manufacturers in 2023 while the Kirin Group develops products to expand to countries where there is a higher demand for HMOs.
Tetsuo Endo et. al.,Appl. Microbiol. Biotechnol. 53, 257-261(2000)
A carbohydrate whose molecules are composed of a relatively small number of simple sugars (monosaccharides). HMOs are mainly composed of glucose, galactose, fucose, N-acetylglucosamine, and N-acetylneuraminic acid.