December 10, 2007
Process of acquisition of National Foods Limited: additional disclosure
Kirin Holdings Company, Limited ("Kirin"), having announced on November 8, 2007 that it had resolved to acquire all shares in Australia's leading dairy and beverage producer National Foods Limited, has released the following additional information.
1.Additional information on acquisition of shares
(1) Details of acquisition procedure
To acquire the outstanding shares of National Foods, Kirin will, through Kirin Holdings (Australia) Pty Ltd., a special purposes company established in Australia by Kirin, acquire all 500,000,001 shares of San Miguel Foods Australia Holdings Pty Ltd., the holding company of National Foods.
(2) Acquisition scheme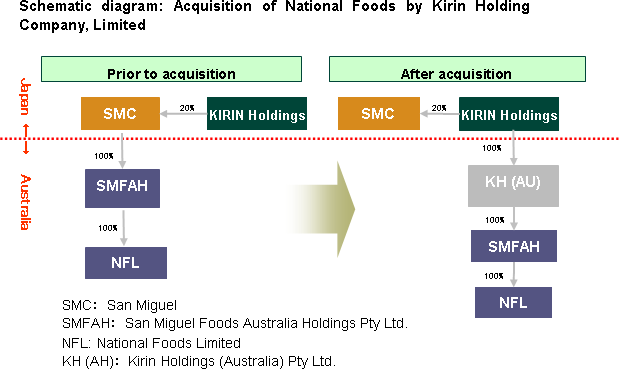 Note: San Miguel and Kirin respectively established a holding company and a special purposes company in Australia in order to maximize tax efficiency under Australian law.
2.Financial outline of San Miguel Foods Australia Holdings Pty Ltd. (non-consolidated)
Note: Figures and results are for 2006, translated into millions of yen from Australian dollars at Aus$1 = ¥86.63
| | | |
| --- | --- | --- |
| (1) | Total assets | 187,205 |
| (2) | Net assets | 35,249 |
| (3) | Capital | 43,315 |
| (4) | Net sales | Nil |
| (5) | Ordinary income | (6,408) |