Management Issues for the Sustainable Growth of the Kirin Group
In formulating the New KV2021 long-term management vision, the Group identified management issues for the sustained growth of the Kirin Group as important themes for the long-term sustainability and development of the Kirin Group and of society.
The Group identified issues that will have a major influence on corporate value over the medium to long term, and assessed the importance of each issue from the viewpoints of impact on the sustainability of society and impact on the Group's business. Subsequently, the issues will be discussed by the Group CSV Committee, and priority themes will be formulated on a Groupwide basis.
Moving forward, the Group will work to foster opportunities to receive feedback from society, such as engagement with stakeholders, and will build a framework for continual reevaluation.
Management Issues for Sustainable Growth (Group Materiality Matrix)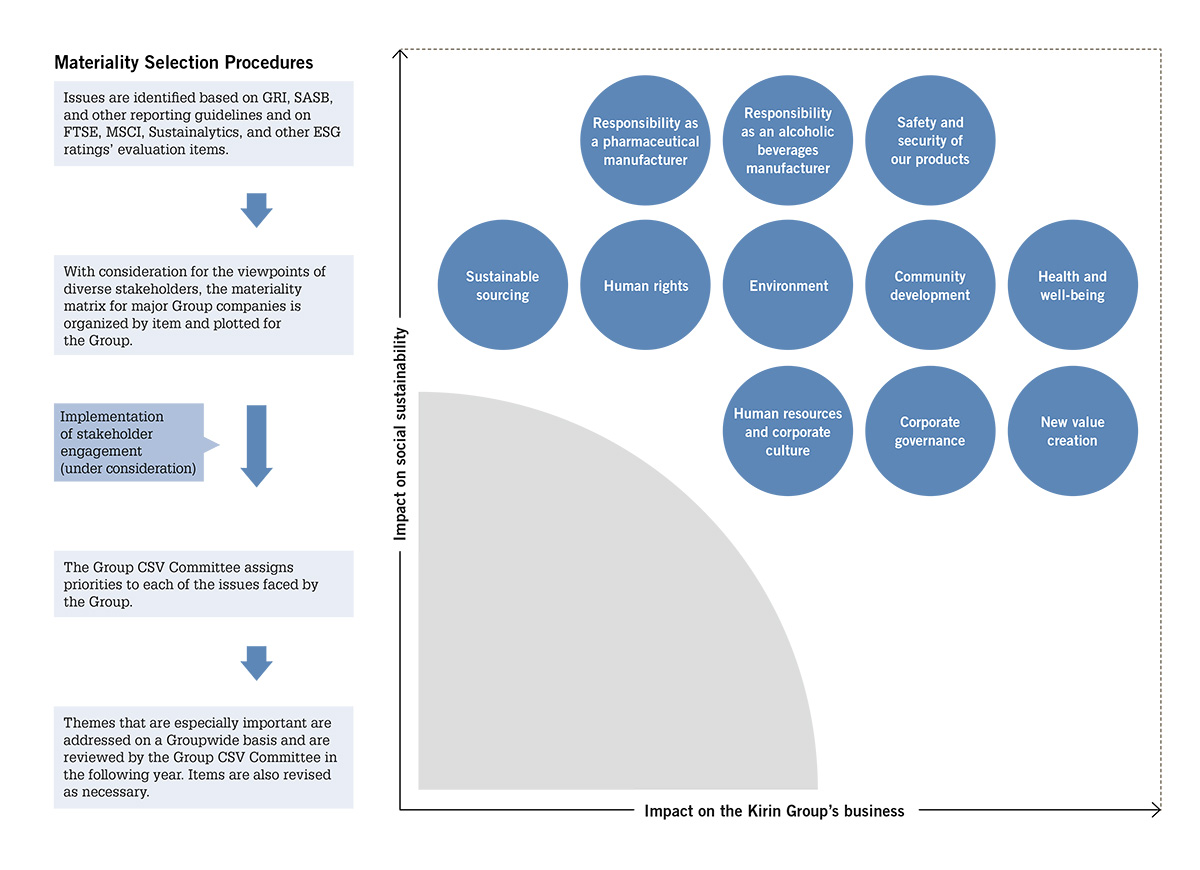 Items Included in Management Issues for Sustainable Growth
Health and well-being
Promoting customer's health / Promoting safe and comfortable workplaces
Safety and security of our products
Product and service safety / Responsible marketing and appropriate information provision
Responsibility as an alcoholic beverages manufacturer
Addressing alcohol-related problems
Responsibility as a pharmaceutical manufacturer
Stable supply of products and services / Transparent relationships with medical institutions and others
Human rights
Initiatives to address human rights problems
Sustainable sourcing
Promoting responsible procurement / Sustainable raw materials supply
Community development
Revitalizing regional economies and communities through business / Job creation
Environment
Water resources / Waste and pollution / Container and packaging / Global warming / Biological resources
Human resources and corporate culture
Embracing diversity and inclusion / Development of human resources, open and accommodating organizational culture
New value creation
Product and service innovation corresponding to change in communities and customers
Corporate governance
Governance and transparency / Risk management / Compliance
Group CSV Committee
To support the Kirin Group's proactive and independent CSV initiatives, the Group CSV Committee meets once a year in principle, with the meeting chaired by the president & CEO of Kirin Holdings.
The presidents of major operating companies* are also members of the committee, which conducts discussions regarding the formulation of optimal Group CSV policies and strategies as well as action plans. In addition, the committee monitors the status of the implementation of CSV promotion plans.
The details of the decisions made by the Group CSV Committee are, as needed, reported to and discussed by the Kirin Holdings Group Executive Committee and the Kirin Holdings Board of Directors and reflected in the Group's overall strategies. The committee chair provides instructions for improvement that are considered necessary for CSV promotion. These instructions are provided to departments at Kirin Holdings and to Group companies. This increases the effectiveness of CSV policies and strategies determined by the committee. The Kirin Holdings CSV Management Section, which serves as the secretariat for the committee, will take steps to provide support for operating companies and lead units, such as providing CSVrelated information and sharing the CSV-related initiatives of Group companies.
*

Kirin Brewery, Kirin Beverage, Mercian, Lion, Brasil Kirin, Myanmar Brewery, Kyowa Hakko Kirin