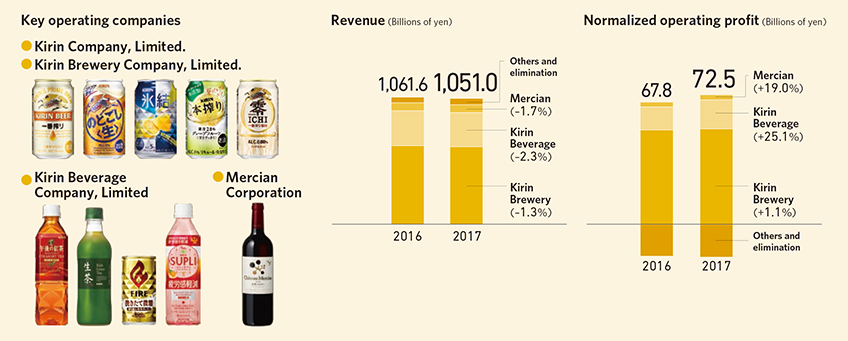 Note: Figures in parentheses are comparisons with the previous fiscal year.
Kirin Brewery
Amid a sluggish beer market that declined 2.6%, Kirin Brewery reviewed its trading conditions from January onward in anticipation of the enforcement of the Standard for the Fair Trade of Alcohol accompanying the revision of the Liquor Tax Act in June. As a result, the review found that the effects of continued high retail prices over a certain period compared with competitors' products caused beer sales volume to decline 4.2%. By brand, Ichiban Shibori dropped 2.4%, in line with the overall market decline, but sales of cans were strong after conducting intensive sales promotion activities in September to upgrade the product, pushing sales volume upward (up 0.6%) for the year. On the other hand, sales volume of the Nodogoshi brand declined (down 4.9%), leaving Kirin Brewery the challenge of recovering market share in the new genre category.
RTD increased 8.4%, centering on Hyoketsu and Honshibori, and sales of non-alcohol beer-taste beverage increased 58.7% with the launch of Kirin Zero ICHI.
Although revenue declined due to decreasing sales volume of beer products, unit sales and product mix improved thanks to a review of trading conditions and a rising ratio of can sales. Moreover, cost reductions were successful and normalized operating profit increased.
Kirin Beverage
Gogo-no-Kocha increased 2%, recording its highest-ever volume of sales, and the sales volume of Nama-cha, including the effects of last year's product renewal, increased 5%. Meanwhile, Kirin Beverage's total sales volume decreased 2%, falling below the market average of ±0% due to the termination of contract manufacturing agreements, as well as declining sales volume of FIRE (down 8%). The functional beverages category was up 11% on strong performance of new products under the Supli brand.
While revenue decreased due to declining sales volume, normalized operating profit increased substantially on the rising composition ratio of Gogo-no-Kocha and Nama-cha, as well as cost reduction effects.
Mercian
Products centered on domestically produced and imported wines fared well, and the sales volume of wine increased (+2%). Although revenue declined because of an increase in low-priced imported wine for daily drinking, normalized operating profit rose due to cost reductions and the rationalization of marketing expenses.
About Japan Integrated Beverages

(836KB)