Kirin's market share reaches 60% during the boom years when beer becomes popular in Japan
During Japan's period of rapid economic growth from the 1950s to 1970s, Kirin Brewery Co., Ltd., greatly expanded its production, sales, and deliveries of beer. It also expanded operations to include a soft drink business in 1963 and a whiskey business in 1972. By the 1970s, the company had secured a market share of about 60% for its Kirin-brand beer, produced by its network of 12 breweries across the country.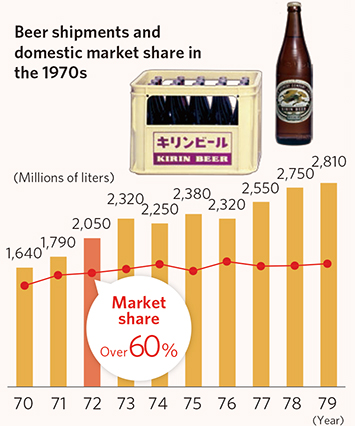 Diversifying operations beyond beer production to offer a wider lineup of life-enrichening products
In the 1980s, the Kirin Group expanded into the life sciences industry and established a full-fledged pharmaceuticals business. In order to diversify its operations further, Kirin took steps toward creating a new company image while improving its corporate structure.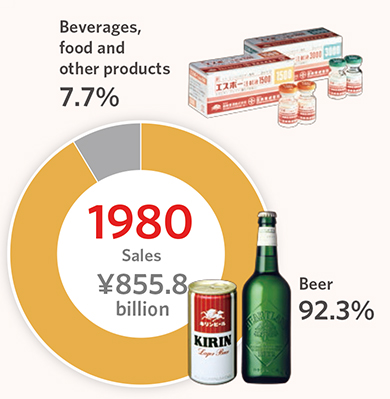 The launch of Kirin Holdings
Kirin Holdings Co., Ltd., was established in 2007, the year of the company's 100th anniversary of its founding. A pure holding company framework was adopted as a means for strengthening the Kirin Group's management. Then in 2013, Kirin Co., Ltd., was established for the purpose of leading the Group's Japan Integrated Beverage business segment.
Expanding operations globally
Aiming to be a leading company in Asia and Oceania, Kirin Holdings set up subsidiaries in various countries including Australia, China, the Philippines, and Myanmar. It also launched Kyowa Hakko Kirin Co., Ltd., in 2008 as a pharmaceutical and biochemical business, which is applying biotechnology in an effort to develop global pharmaceutical products.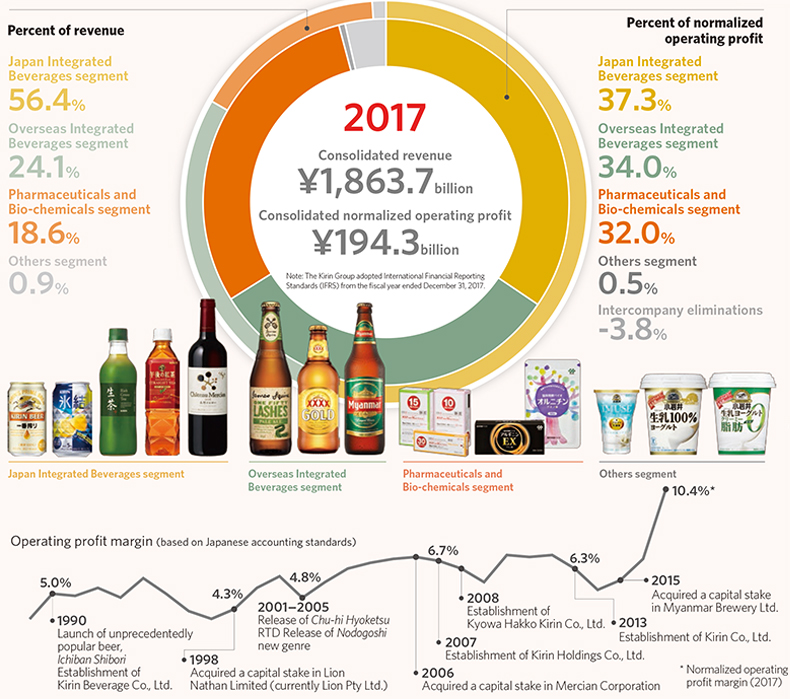 * Normalized operating profit margin(2017)