Identifying the challenges facing the Kirin Group and laying a path toward future growth
Matsuda The chief financial officer is not simply responsible for basic financial matters; it is an important leadership position that involves executing strategies, ensuring corporate governance on a group-wide basis, and making key decisions about fund procurement, growth-oriented investments, and financial policies. From your standpoint as CFO, what are the main challenges currently confronting the Kirin Group?
Yokota Our challenges are to reach the targets for return on equity (ROE) and normalized earnings per share (EPS) set in our 2016 medium-term business plan. Our initial goal for profitability now appears to be attainable. The target for free cash flow has already been exceeded and the company has made real progress in repaying interest-bearing debt.
Cash flow over two years from 2016 to 2017

The basic policy of the 2016 medium-term business plan is to restructure and revitalize the Kirin Group. One by one, steps were taken toward that end, and we managed to reach respectable levels of corporate profitability and financial soundness. At present, we recognize that the biggest concern among shareholders and investors is how the Kirin Group plans to use the cash it has generated to ensure future growth.
Matsuda In other words,now that finances are in order,the issue is what to do next. I think there are three key questions regarding how companies use cash. The first is how to use it to ensure sustainable growth over the medium and long terms. The next is how to allocate resources in a business portfolio that can realize that growth, and the CFO plays a very important role in that regard. Finally, the question is how to structure finances so that cash continues to be generated dependably.
As part of the 2016 medium-term business plan, the Group's business portfolio in particular was restructured. What are your objectives going forward?
Yokota Up until now, we focused on how to reach a respectable level of profitability, which includes the asset turnover of existing businesses, and how to revitalize the Group if that level of profitability could not be reached. As a result of our efforts, Kirin Beverage increased its normalized operating profit margin to 7.6%, and Brasil Kirin was sold off.
Looking ahead, we intend to follow the same basic objectives as before while managing the Group's existing businesses. At the same time, however, it will be necessary to consider new lines of business. I think that identifying such businesses will be a task for our next medium-term business plan.
Matsuda Investors generally prefer specialized companies over corporate groups with diversified businesses due to concerns that a situation known as conglomerate discount may occur. In order to eliminate such concerns, the CEO and CFO, who are also investors in the Group, must strictly manage the company's assets and capital with even more discipline than investors from outside the Group. It is also essential to pursue synergies between businesses, which is not possible for specialized companies.
Yokota I agree with you. Especially in terms of creating synergy effects, the Kirin Group's competitive advantages as a manufacturer are its wealth of technologies and expertise. For instance, by drawing from microorganism cultivation techniques developed over many years in the beer brewing business, the Group generated synergies with other businesses, including the development of antibody pharmaceuticals and their production methods, and the application of technologies for mass producing amino acids in its pharmaceutical business. I believe the Group can create more new value in the future by combining the wide range of technologies it has built up over the years as well as technologies from outside the Group.
Discussions of Kirin's long-term management vision and next medium-term business plan are currently underway. One issue is how to bolster the Group's exiting businesses while utilizing its assets to create synergies. We also want to channel synergies toward launching all-new businesses that create economic and social value for stakeholders. That is the kind of vision we would like to put forward.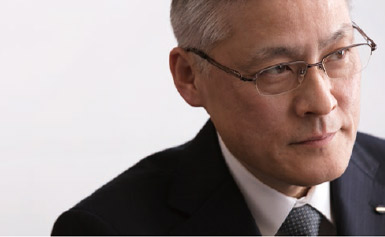 Matsuda As market conditions grow increasingly volatile, companies will need to more clearly state their objectives for the future. That means it will be important to formulate a straightforward and coherent long-term vision, and work toward accomplishing its goals by carrying out each related measure step by step. With that in mind, I would like to hear your plans regarding how cash will be allocated for the purpose of realizing growth in the future.
Yokota I think the Kirin Group can continue to grow,so,when all is said and done, our policy for allocating cash is to give first priority to growth-oriented investments, which tend to be associated with expanding business through mergers and acquisitions. Indeed, the Group will continue searching for outstanding companies to merge with or acquire, but such opportunities are limited because many have already been acquired by our global competitors. Therefore, it is important for us to exercise discipline when making such investment decisions.
Under those circumstances, creating shared value is our strategy for ensuring the sustainable growth of the Kirin Group. Specifically, we aim to leverage the Group's competitive advantages and unique business portfolio to increase economic and social value. Accordingly, our policy is to step up investment in intangible assets that support this objective, namely human resources, the Group's brands, R&D, supply chain and IT.
Matsuda Nowadays,investors are not only concerned with financial performance and shareholder value; they also attach importance to the social contributions of companies, such as initiatives related to environmental, social and governance (ESG) criteria. I believe Kirin's approach of creating shared value is a forward-looking, exemplary management initiative. Generally, however, since people are not very familiar with this concept, it needs to be clearly explained, which might be difficult.
Yokota You are right to say that. Creating shared value is not merely a conceptual approach, and, as CFO, I have an important duty to provide a clear and comprehensive explanation to investors about the Group's initiatives for tackling issues confronting society, specifically in the three areas of health and well-being, community engagement, and the environment, and how those initiatives eventually lead to economic value.
Matsuda Among the four important intangible assets being targeted, I think the value of Kirin's brands has a big impact on the competitiveness of its business since beer and beverages are business-to-consumer businesses. How do you plan to enhance brand equity?
Yokota It will be important to raise the value of Kirin's brands by implementing a thoroughgoing plan-do-check-act cycle and improving our marketing strategies. Toward those ends, we have actively brought new capabilities to our organization, such as inviting highly experienced personnel from outside the Group to lead the marketing division. Consequently, our strategies and processes got off to a fresh start and we have been steadily improving results, just like we did before with Ichiban Shibori beer and Nama-cha bottled green tea.