Seeking profit growth in our existing businesses
While maintaining this swift progress in structural reform, we are intent upon achieving our quantitative targets and profit guidance. At the same time we will accelerate implementation of measures with a view toward our next medium-term plan and beyond. Realizing profit growth in our existing businesses is our top priority.
Initiatives to Maximize Shareholder Value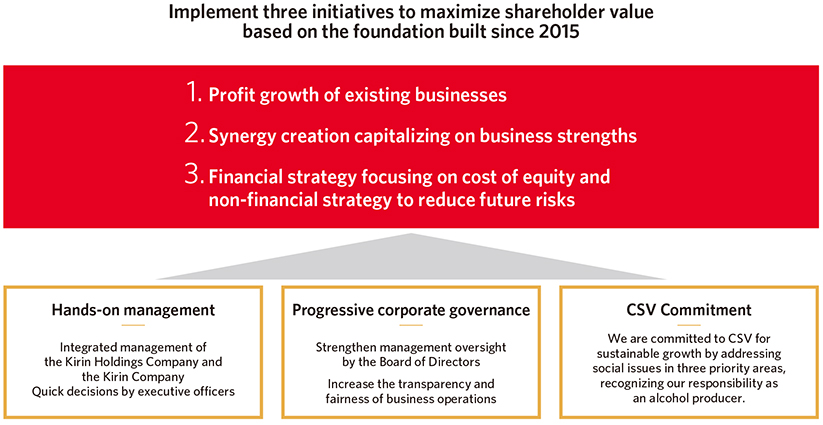 Profit Growth of Existing Businesses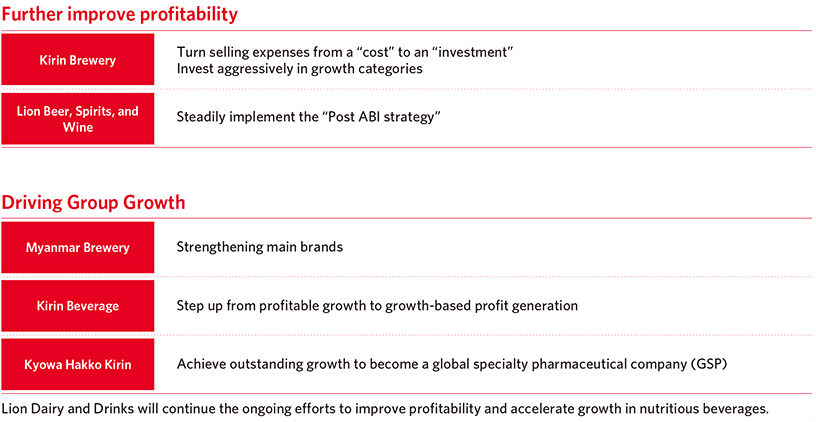 Among our existing businesses, we are seeking new heights of profitability in Kirin Brewery and Lion Beer, Spirits, and Wine business (Oceania). It is generally recognized that beer markets in Japan and other industrialized nations in North America, Europe, and other regions are becoming ever more mature.
Domestic beer consumption has dropped one fourth from its peak. Against Japan's background of declining fertility and an aging population we foresee further reduction in consumption ahead. Over the medium to long term it is unrealistic to hope for unit growth. Aggressive price competition has continued for some time but the revised Liquor Tax Law and related legislation of June 2017 established the Guidelines on Fair Liquor Trade, which offers opportunities for the beer industry to move decisively toward focusing on profitability.
In this reshaped business environment, Kirin Brewery is among the first to shift its orientation away from price, putting even greater emphasis on brands than we have in the past. Specifically, in January 2017, preceding this regulatory reform, we slashed sales promotion costs, while reclassifying marketing cost as an investment in brands, which are intangible assets. This allows us to allocate resources to branding by launching products with fresh appeal and introducing innovations in places where alcoholic beverages are served or sold.
In July 2017 for example, we revamped Ichiban Shibori with an improved flavor, which we communicated through an ad campaign, winning the hearts of a large cross-section of beer lovers. The rate of sales growth surpassed that of the market itself while enhancing the attractiveness of the beer category as a whole. We also expanded our craft beer business to revitalize the market by further boosting beer's appeal.
Going forward we will further narrow down the products in which we invest, aiming to build strong brands supported by long-term fans. At the same time, we will invest in the growth categories of craft beer and ready-to-drink (RTD) pre-mixed cocktails. Through these measures we intend to stimulate new growth for Kirin Brewery and boost profitability over the medium term to a level comparable to global competitors.
Regarding Lion Beer, Spirits, and Wine business, we are regaining profit following conclusion of distribution agreement with Anheuser-Busch InBev (ABI) in Australia. Specifically, we are leveraging our strengths by boosting the brand equity of our main brands and expanding craft beer sales. In 2018 we will ramp up these efforts to achieve profitability levels seen when the ABI agreement was in force.
We are pursuing a growth strategy for Myanmar Brewery, Kirin Beverages, and Kyowa Hakko Kirin, as these are the main drivers of Group growth. In the case of Myanmar Brewery, we are building the brewer's main brand, Myanmar Beer, and expanding production facilities and capacity to support long-term growth. Over the past two years we have greatly improved the profitability of Kirin Beverages by dropping unprofitable operations and cutting supply chain costs.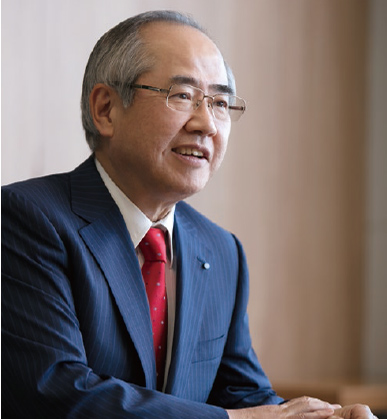 Going forward we are taking the next step up in our strategy, shifting from profitable growth to growth-based profit generation. By developing a robust brand portfolio and creating value beyond existing domains, we aim to raise our normalized operating profit margin to 10% by the year 2021.
In the Kyowa Hakko Kirin pharmaceuticals and bio-chemicals business we are making steady progress with development of our global strategic products, KRN23 (Burosumab) and KW-0761 (Mogamulizumab). In February 2018 the European Medicines Agency (EMA) granted Conditional Marketing Authorisation to KRN23. Having obtained FDA marketing approval in April 2018, we plan to launch KRN23 in both the U.S. and Europe within the year.
Progressing favorably with its five-year plan, Kyowa Hakko Kirin is enhancing its marketing capabilities and other aspects of its business in addition to developing global strategic products. Advancing steadily, KHK drives the Kirin Group's medium- to long-term growth as it makes the leap to become a global specialty pharmaceutical company (GSP).