A wealth of technologies applied to strengthen pharmaceuticals and bio-chemicals businesses

Drawing on bio-technology to break into the pharmaceutical business
In 1981, as part of its first long-term management vision,the Kirin Group set out to expand its business into style-,health-, and culture-related markets, and to contribute to people's quality of life through its products, especially beer, in the lifestyle industry. By proactively promoting more diversified operations, the Group worked to create a more balanced business portfolio that was less reliant on its beer business, and forged a clear roadmap for improving profitability.
Guided by its long-term management vision, the Group stepped up efforts to launch new businesses utilizing its expertise in bio-technology, which was accumulated over many years in fermentation and cell cultivation operations. Leveraging those technological capabilities, the Group made advances in drug development, for which market growth was projected over the medium to long terms, and further expands into the life sciences market.
ESPO® launched as the first pharmaceutical product through a mutually beneficial partnership with U.S.-based Amgen
The Group made a major step forward in its efforts to expand the pharmaceutical business in 1984, when it formed a partnership with the U.S.-based biotech company Amgen, Inc., a venture firm at that time. Combining Amgen's leading R&D capabilities with Kirin's manufacturing techniques, the partnership succeeded in mass producing human erythropoietin. That led to the launch of their first pharmaceutical product in 1990: ESPO®, a treatment drug mainly for renalanemia. Incredibly, the drug was commercialized after only six years since forming the partnership, demonstrating Kirin's entrepreneurial spirit and achievement for wellcollaborated work with the partner. On the momentum of that success, the Group continued to apply its bio-technologies in drug discovery and development. Its pharmaceutical business expanded as a result, and accounted for about 10% of consolidated operating profit in 2007.
Accelerating outstanding growth in the pharmaceuticals business and cultivating new Health Science business
In 2007, Kirin Pharma Co., Ltd., was established following the Group's adoption of a pure holding company framework and establishment of Kirin Holdings Co., Ltd. Kirin Pharma then merged with Kyowa Hakko Kogyo Co., Ltd., in 2008 to form Kyowa Hakko Kirin Co., Ltd., and has been creating new pharmaceuticals by leveraging the synergies of the two companies' antibody- and bio-related technologies. One of the accomplishments of this business came in2018 with the approval and launch of Crysvita, a treatment drug for X-linked hypophosphatemia, in Europe and the United States. Guided by Kirin Group Vision 2027, KyowaHakko Kirin is aiming to take the next major step toward becoming a global specialty pharmaceutical company, while the Group is working to cultivate new businesses bridging Pharmaceuticals and Food & Beverages.
Expanding globally through mergers and acquisitions
The Kirin Group has been expanding its operations internationally by actively pursuing mergers and acquisitions, focusing on Asia and Oceania in particular as key markets. Subsidiaries around the world are now helping drive the Group's growth as a whole, including Lion Pty Ltd, an operator of alcoholic and non-alcoholic beverages businesses in Australia, and Myanmar Brewery Ltd. Meanwhile, Kyowa Kirin is striving to develop global pharmaceuticals by drawing on a wealth of bio-technologies.
The Kirin Group around the world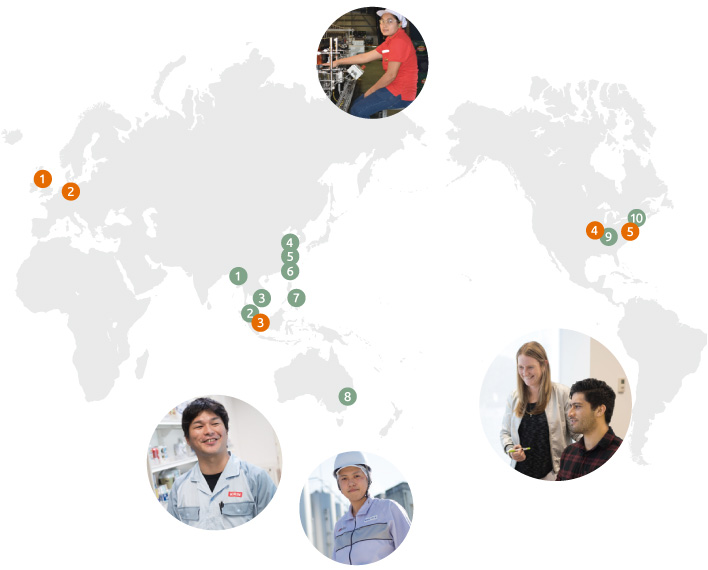 Alcoholic and non-alcoholic beverages businesses
①Myanmar Brewery Limited<Myanmar>
②Kirin Holdings Singapore Pte. Ltd.<Singapore>
③Interfood Shareholding Company<Vietnam>
④Kirin (China) Investment Co., Ltd.<China>
⑤China Resources Kirin Beverages (Greater China) Co., Ltd.<China>*
⑥Taiwan Kirin Co., Ltd.<Taiwan>
⑦San Miguel Brewery Inc.<Philippines>*
⑧Lion Pty Ltd<Oceania>
⑨Four Roses Distillery, LLC<United States>
⑩The Coca-Cola Bottling Company of Northern New England, Inc.<United States>
Pharmaceuticals and bio-chemicals businesses
①Kyowa Kirin International plc<United Kingdom>
②Kyowa Hakko Europe GmbH<Germany>
③Kyowa Kirin Asia Pacific Pte. Ltd.<Singapore>
④Kyowa Hakko Bio US Holdings Inc.<United States>
⑤Kyowa Kirin USA Holdings, Inc.<United States>
*

Company consolidated under the equity method